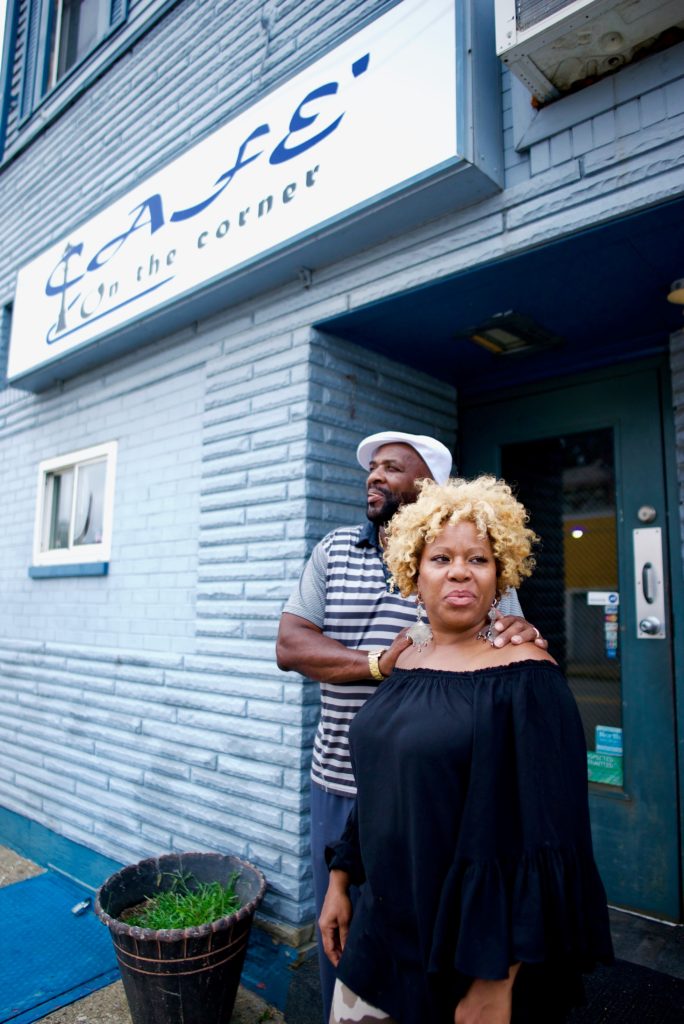 Business Spotlight: Café on the Corner
"We are so grateful for The Neighborhood Fund and we want to extend our gratitude to that organization for trusting and believing in our mission." – Lateresa Blackwell, owner
"The community welcomes us and trusts us. We are neighbors, and our neighbors have truly taken on an ownership." – Lateresa Blackwell
Funding for a Full Future
Lateresa Blackwell and her husband, Michael, have lived in the Northside community for over 25 years. They developed a shared vision and felt compelled to open Café on the Corner in 2014, after leasing the building space from their church, New Hope.
The Blackwells maintained Café on the Corner as a successful business and community hub. In 2017, they obtained funds from the Neighborhood Community Development Fund (The Neighborhood Fund) – formerly known as the "Northside Community Development Fund" – to purchase the building and expand their space. The couple received $50,000 to purchase the storefront, and $45,000 for additional renovations.
"We are truly honored and blessed that they would consider giving us this opportunity and funds for the betterment of the space," said Lateresa Blackwell.
The "new home for southern cooking" provides the neighborhood of Marshall-Shadeland with a sense of individual ownership. It's the community's cafe, according to the Blackwells. Funding from The Neighborhood Fund not only helped the Blackwells expand the business, but it also empowered and encouraged the community to trust and welcome the Blackwells.
"We are learning patience, perseverance, and we are meeting a lot of amazing people who have taught us a lot about entrepreneurship," said Lateresa Blackwell.
Food for Thought:
More than just their famous Gumbo dish, the Blackwells want to provide an inviting atmosphere for anyone who needs it. They're even in the process of installing generators for the cold months to ensure that members of their community have a warm place and a home-cooked meal.
In April 2016, the Blackwells also founded Kitchen of Grace. It's a nonprofit for Northside youth focusing on workforce development. Kitchen of Grace is a 16-week program that guides Northside youth into successful opportunities post high school. "We help our young people rise up out of the ashes and into opportunity," said Michael Blackwell. "We prepare them for leadership programs."
Get Started
So, what are you waiting for? Let's get started.
Click the Loan Application button below and get the ball rolling.
3923 Perrysville Avenue,
Pittsburgh, PA 15214