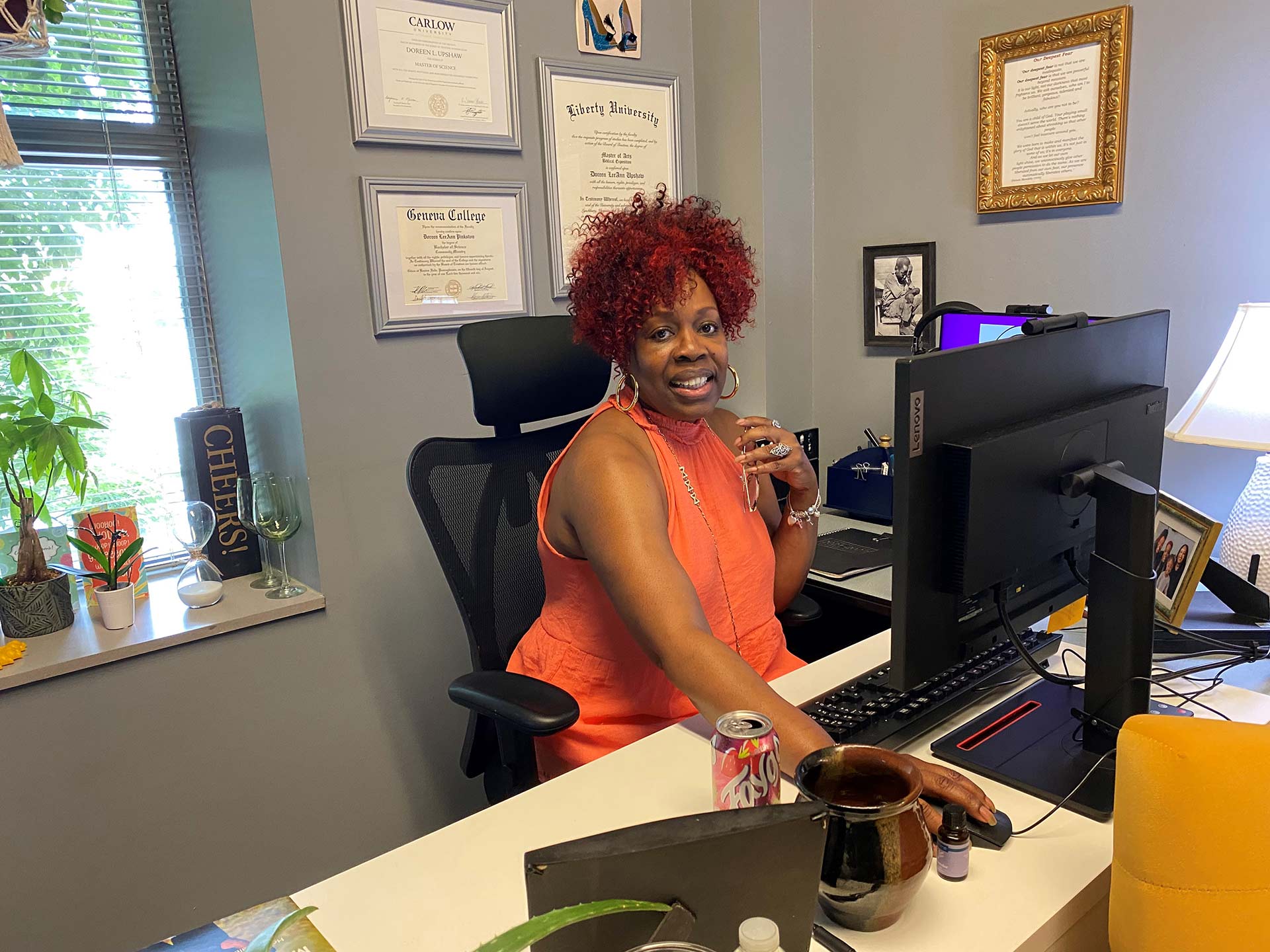 Business Spotlight: Doreen Upshaw's Mobile Therapy Shuttle
"I have been a counselor my entire life. I feel like I've always sat and talked to people," said Upshaw. "Eventually, I decided to start pursuing it professionally."
Doreen Upshaw began her practice with Compass Counseling in 2017 as a part time job to support her income from her full-time job, however she was unfortunately released from her position at the end of 2019 due to downsizing. This, plus the COVID-19 pandemic, directed her toward seeking help to expand her counseling practice professionally.
Upshaw reached out to her partners at the Christian Counseling Collaborative, who were able to help her build a full-time client list. At the same time, she reached out to the Neighborhood Community Development Fund to acquire funding for a physical space. After some months, the Neighborhood Community Development Fund provided that funding, which allowed her to move into her Northshore office in November 2021.
While she acquired her office with the help of the Neighborhood Community Development Fund, the pandemic created other challenges by limiting her time she could provide for in-person practice. For her specialty in play therapy, which is a unique form of counseling that uses a child's natural urge to play as means to help them express and communicate their feelings, this was devastating.
"I lost all my kid clients in 2020, and I'm a child and family therapist. A lot of my clients are between the age of four and eighteen," said Upshaw. "We had to go to telehealth, and you can't do play therapy via telehealth."
To continue working with her child clients, Upshaw needed to come up with a new way to meet them. When she came up with the idea for a mobile child therapy clinic, she said it came to her in a dream.
"I stepped up on this shuttle, and I turned, and there was play therapy in the shuttle. Kids, toys, aggressive play, home play, real life play, all of it was there," said Upshaw.
After research and calls to the U.S. Patent Office, she determined no one had attempted a play therapy service like this. With help from the Neighborhood Community Development Fund and URA, she purchased a shuttle and outfitted it with everything she needed to do play therapy on the go. A ribbon-cutting for the new shuttle was held on July 30, bringing the community together to celebrate this groundbreaking new service for children in need.
She hopes to take the concept beyond children in the future, with plans to expand the mobile therapy clinic to anyone who needs help with their mental health.
Get Started
So, what are you waiting for? Let's get started.
Click the Loan Application button below and get the ball rolling.
3923 Perrysville Avenue,
Pittsburgh, PA 15214