Last month, we hosted our Annual Community and Business Luncheon at The Priory Grand Hotel, an event that gives us the opportunity to recognize our many partners throughout Allegheny County. It was a memorable afternoon full of great people, delicious food and meaningful discussion about ways we can continue to support our communities in 2023 and beyond.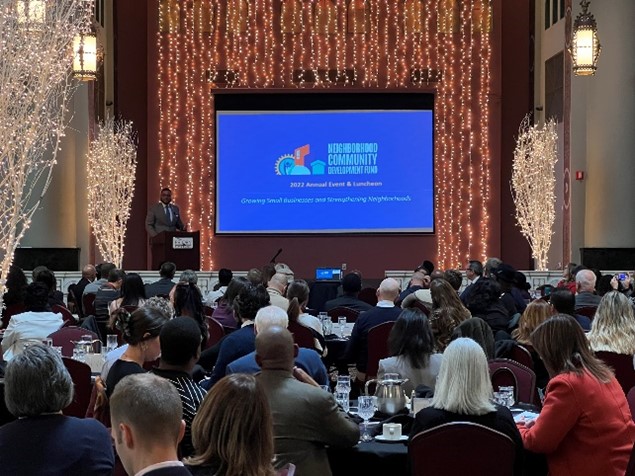 Some highlights from the event are below:
Austin Davis, the lieutenant governor-elect of Pennsylvania, served as our keynote speaker and discussed the critical role that we and other neighborhood organizations play in transforming our communities for the better.
Owners of businesses we've supported through startup loans – including Michael and Antoinette Payne of Observatory Hill Deli and M&A Tax, as well as Arlena Strong of Strong Funeral Home and Cremation Services – were kind enough to speak about how we helped make their entrepreneurial dreams come true.
Mark Masterson, our executive director, was honored with the U.S. Small Business Administration Certificate of Appreciation Award. Mark received this award for his enduring commitment to small businesses and his exceptional leadership and dedication to providing much-needed access to capital during the COVID-19 pandemic.
Mark also spoke about how 2022 was our best lending year yet, with a 489% increase in number of loans provided and 80% increase in loan value compared to 2017.
Once again, we'd like to thank our partners, clients and friends who spent the afternoon with us. Thank you for your continued support as we help grow small businesses and strengthen neighborhoods.
And stay tuned for information on next year's event – we can't wait to see you there!