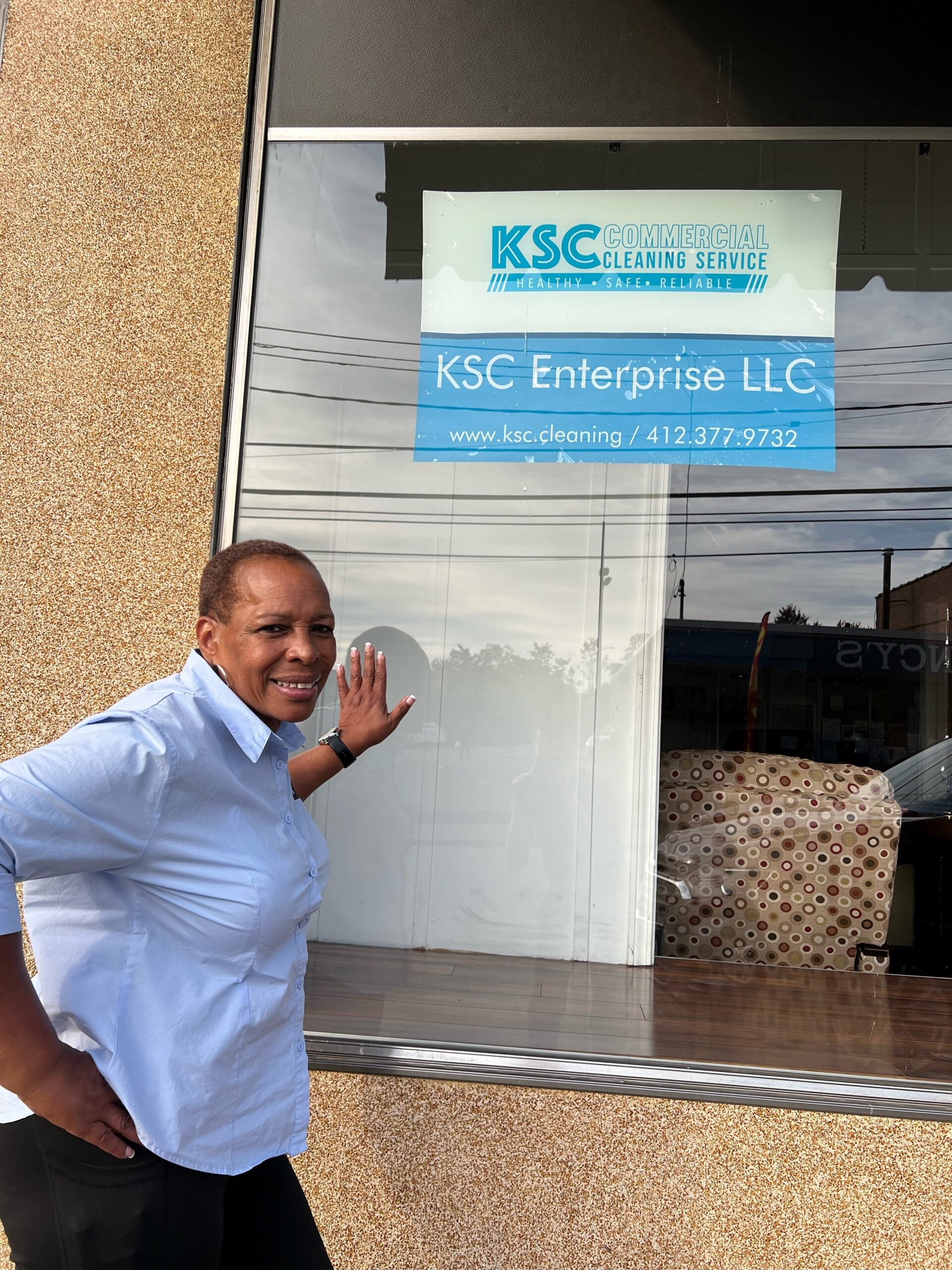 Business Spotlight: KSC Commercial Cleaning Service
Karen Denton's story is one of second chances.
While working as a general manager of a fast-food restaurant, Denton found herself under constant stress. The demands of the job took a major toll on her health, leading to some catastrophic medical emergencies.
"I'm a four-time brain aneurysm survivor," Denton said.
After recovering from those episodes and unable to perform high-stress work, Denton found herself constantly tidying up at home: vacuuming, washing windows, cleaning counters and much more. Denton soon realized this was work she could safely return to once she got better, and a family connection helped make it happen.
"During that recovery period, my nephew started a franchise cleaning business," Denton said. "I thought, 'Oh, I could do this!'"
Denton decided to venture out on her own in 2014, starting KSC Commercial Cleaning Service. She rented an office space in Wilkinsburg while she got the business on its feet, but by 2021, she was on the hunt for her own space.
Fortune smiled on Denton when she discovered the owner of her current office space was looking to sell the building. While she was initially convinced she couldn't get approved to make the purchase, her friend recommended she reach out to Neighborhood Community Development Fund for help. Denton contacted senior loan officer Rich Newell, and the gears quickly started turning.
"On our first call, I told Rich about the building," Denton said. "He said, 'Oh, we can get you the building!'"
And with that, Denton took over ownership of 615 South Avenue in Wilkinsburg, making it KSC's base of operations.
Today, KSC Commercial Cleaning Service offers general cleaning services to a wide variety of clients, from apartment complexes to office buildings to industrial facilities. Denton and her crew use top-of-the-line safety equipment and cleaning products to ensure disinfection of viruses and bacteria – including COVID-19 – from all surfaces.
Now that she owns her own space, Denton hopes to expand the staff of KSC. In addition to providing enhanced services and broadening her client base, Denton wants to offer more people like her the second chance they need in their lives.
"KSC stands for Karen's Second Chance," Denton said. "I thought it was for me, but instead I'm seeing it's for people like me who need a second chance."
Get Started
So, what are you waiting for? Let's get started.
Click the Loan Application button below and get the ball rolling.
3923 Perrysville Avenue,
Pittsburgh, PA 15214