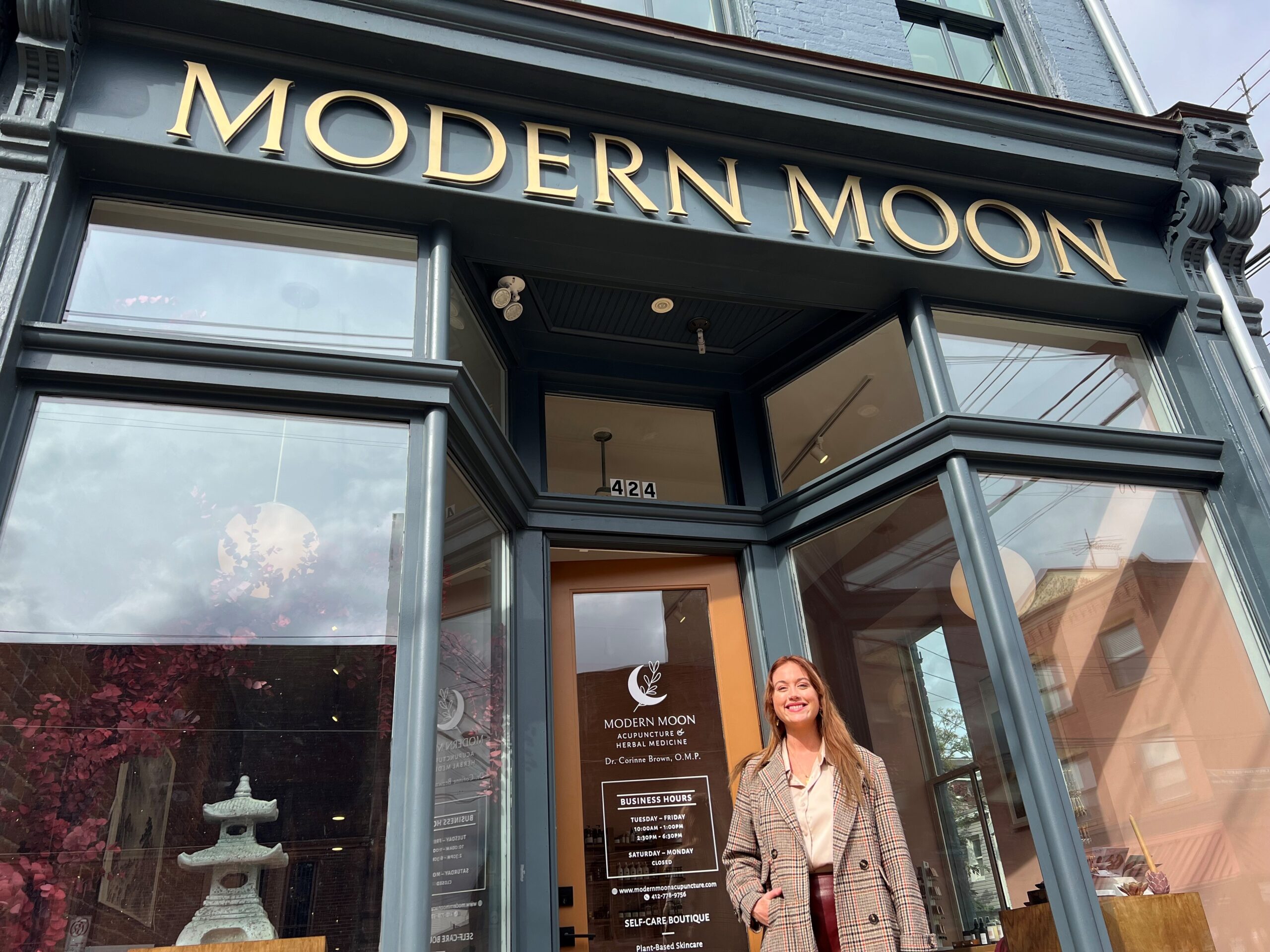 Business Spotlight: Modern Moon Acupuncture
In a powder blue building on Suismon Street in Pittsburgh's historic Deutschtown neighborhood sits Modern Moon Acupuncture. Owned and operated by Dr. Corinne Brown, OMP, Modern Moon offers a variety of traditional Chinese medicine treatments, including needling, cupping and moxibustion, as well as an extensive array of self-care supplies ranging from candles to bath products and supplements.
Brown's path to her own acupuncture clinic began when she was just 19. After trying traditional Chinese medicine for the first time to help alleviate anxiety and depression she experienced as a college student, Brown found it transformative – so much so that she started to seriously consider practicing acupuncture professionally.
By 2014, Brown had joined a four-year acupuncture program in her hometown of Asheville, North Carolina, to acquire the skills of the trade. She also met her current partner through school, and together they made the leap to Pittsburgh, looking to find their niche in the city's growing wellness market.
"Pittsburgh is super cool and great for young adults in their 30s, and acupuncture is something that's wanted here," Brown said.
Brown began working at an acupuncture clinic after graduating school, but her desire to run her own business became too strong to ignore.
"I was there for about a year before I decided I was ready to just live the dream," she said.
With the help of real estate agents, Brown secured her location in the Northside, but she soon realized she would need additional funding to renovate the space in time for Modern Moon's projected October 2023 opening. She contacted loan officer Miauna Connor of Neighborhood Community Development Fund, who helped her navigate the bureaucracy of loan applications.
"Miauna was so patient and understanding," Brown said. "She helped me feel at ease about the process."
Neighborhood Community Development Fund helped Brown secure the funding necessary to get Modern Moon open on time. She's now taking appointments for her services and building a base of enthusiastic clients.
"I'm so happy to be here with this two-room clinic and awesome self-care store," she said.
In the future, Brown aims to seek out additional certifications to expand the range of therapeutic practices she can provide. She also would like to open a wellness center of her own. In the meantime, she's thrilled to join the growing business community on the Northside and help the people of Pittsburgh feel their best.
Get Started
So, what are you waiting for? Let's get started.
Click the Loan Application button below and get the ball rolling.
3923 Perrysville Avenue,
Pittsburgh, PA 15214